Audio Comparer is a tool that is necessary for you music lovers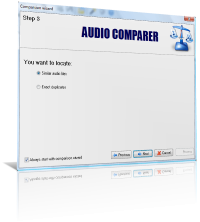 Audio Comparer is a tool that is necessary for you music lovers, even if you do not have enough music collection. Any audio format that the songs you have, do not even have a tag because only consider Comparer Audio format.
With the Audio Comparer will help you to find the same file or duplicate MP3, Ogg and WMA audio files on your computer even if the file name that was different or missing. You can even choose to move, copy or remove duplicate files and clean up your collection.
Audio Comparer is a Windows desktop application for MP3, MP2, MP1, WMA, AIF, WAV and Ogg audio files comparison.
Audio Comparer advantages compared with other
Duplicate MP3 finders
if the Audio Comparer can "listen" to the audio file is a way to compare them with the actual audio content, how it works is like listening to your own with your ear, your entire music collection will be remembered in time of rapid, although in different formats while the other does not.
In fact, you can group your music collection into several groups, so that you easily find the collection you want, when in need.
How it works Audio Comparer only about 1 per second to listen to the MP3 file, and remember, the work will get you in seconds as well. You can mark the file you want and batch copy, move or delete them. This will make it easy to find and delete duplicate MP3, WMA or Ogg files.
How easy is not it? Audio work is guaranteed Comparerwill satisfy you.