Closed-circuit television = CCTV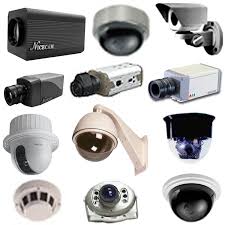 Use of CCTV to be very common in both the banks, offices, shops, roads, terminals, airports, or other public areas that require monitoring, even now this house also has begun to install CCTV in. CCTV is usually installed to prevent theft, the evidence of criminal activity recording. CCTV is a continuation of the Closed-circuit television system and a camera or Supervisors, which consists of a camera system and DVR (Digital Video Recording).
CCTV was first installed in 1942 by Siemens AG at Test Stand VII in Peenemünde, Germany for the launch of the V-2 rockets. And is responsible for the design and installation of the system is a German engineer named Walter Bruch
Then in September 1968, Olean, New York is the first city in the United States to install video cameras along its main street businesses in efforts to fight crime.
Even now in the UK, some places have installed talking CCTV, where the operator can speak directly with the people they monitor. And one which is the latest CCTV is CCTV online where owners can monitor and record all forms of activity that occurred in the area / location of the CCTV is installed remotely from anywhere, without any distance limitations, and can function as an alarm. The owner does not have to monitor events, as with CCTV online.
All monitoring results will be stored in the computer and if there are events that do not want you at the Auto akan contacted at that time also.
CCTV on all the information is taken from Wikipedia.