Highest-priced phones in the world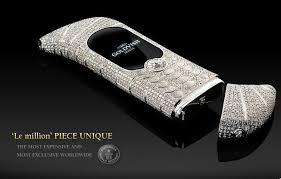 This article I want to share news or information about the most expensive mobile phone. For me who likes things simple and the shortage of funds, may only see a picture and advantages of this expensive phone, to which it has excess funds can be an expensive mobile phone as an investment tool. The phone is expensive because it generally has advantages in design that the average added with diamonds, gold, platinum etc. Here are some of the most expensive mobile phones include:
1. The GoldVish "Le Million", the solid gold, diamond-studded "Piece Unique" is listed in the Guinness Book of World Records as both "The world's most expensive cellular phone" and "The world's most exclusive cellular phone" at one million Euros (approx. U.S. $ 1.3 million) per phone and a guaranteed limited production of three pieces. GoldVish Le Million use the material layer 18 carat white gold (platinum) with a sprinkling of 120-carat diamond quality VVS-1
Technical Specification of the GoldVish Le Million:
Quad band GSM (850/900/1800/1900 Mhz), GPRS / EDGE, dimensions 110 x 46 x 17 mm, weight 198 grams (depending on version), kasing made of gold or white gold (platinum), a sprinkling of VVS-type diamonds 1, TFT LCD screen resolution 176 x 220 pixels, a layer of glass using Shappire materials, the standard battery Li-Ion 950 mAh which can provide the standby time up to 400 hours, the stereo speakers that use Crystal Clear technology, Bluetooth and USB connectivity, FM radio, camera which can perform up to 8x digital zoom, 2GB of memory.
2. Diamond Crypto Smartphone, mobile phone designed by Mr. Peter Aloisson and sells for $ 1,300,000. the entire casing is made of platinum diamond filled with as many as 50 fruits, and inside there are 10 blue diamond and gold of 18 carat!
Technical Specification of the Diamond Crypto Smartphone
Operation System: Windows CE, Main Processor: Motorola MX21 (266 MHz), standards: GSM 900/1800, Main display type: TFT color (262,144 colors), Touch Screen size: (33.84 × 45.12 mm), Resolution: 240 × 320 pixels, Antenna: Embedded Antenna, Keypad: Latin alphabet, Virtual keypad: Yes, Battery (standard): 1350 mAh (Li-Polymer)
Battery operation in stand-by mode:> 100 hours, Talk time:> 2 hours, SMS, MMS, E-mail, Internet, WAP 2.0, GPRS 10, JAVA, Modem, USB, Wav, MP3
3. Vertu Signature Cobra $ 310,000
Gaudy This phone is so exclusive that only eight will ever be made. Designed by French Jeweler Boucheron, the Signature Cobra is made with two diamonds, two emeralds and 439 rubies. For buyers who are only Filthy rich, rather than obscenely rich, twenty-six of the less flashy (read: no rubies) Signature Python phones will be available for a mere $ 115,000. Both phones will feature the real draw.
4. Sony Ericsson Black Diamond $ 300,000
The price of this phones comes from the actual state of the art technology instead of a bunch of shiny rocks but that does not mean it lacks the visual appeal. OLED technology Underneath the polycarbonate skin color that covers the entire face gives the screen a 4 megapixel borderless look. The mirror finish gives the phone a sleek, futuristic look.
5. Smartphone Sweden ($ 300,000)
Using Windows Mobile 5.0 OS. 400Mhz Intel XScale CPU, 4MP camera, plus a touch screen and is equipped with SIP VOIP technology, Wi-Fi 802.11g. Keistimewaannya, this phone is only 5 units around the world.
6. Nokia 8800 Arte pink diamonds with $ 134,000
Designed by Peter Aloisson, this solid 18k white gold over 680 phone features a pink and white brilliant cut diamonds totaling over 21.5 carats. Some of the phone's features are a 3.15 MP camera with autofocus and video, a music player, Bluetooth and voice memo.